Next:
3.4 Absolute Photometry
Up:
3. Instrument Modes and
Previous:
3.2 Single-Pointing Multi-Filter and

3.3 Raster Mode
The staring raster mode was a sequence of staring observations (i.e. chopping was not allowed) on a two-dimensional regular grid which consisted of a sequence of spacecraft pointings. The detector setting remained unchanged for all pointings. The orientation of the raster could be chosen either aligned with the spacecraft y-axis orientation and hence the detector array orientation, or with regard to the sky N-direction, i.e. in general independently of the spacecraft orientation. However, in the latter case the observed sky region was not always completely sampled (for example see Figure 3.5).
Figure 3.5:
Projection of PHT-C200 arrays, in the staring mode, on the sky for an orientation of the spacecraft y-axis non-parallel to R.A. or Dec. Note the gaps between the individual array pointings.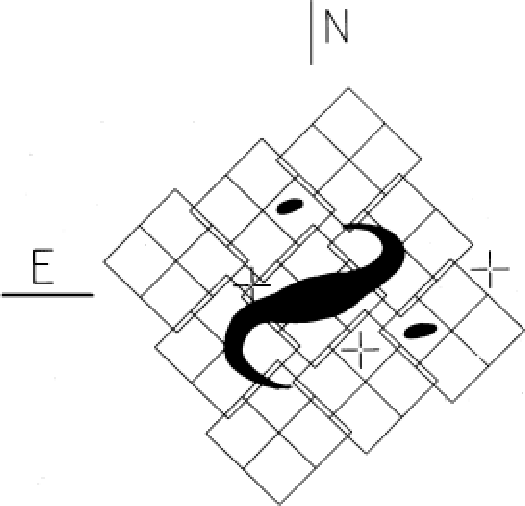 Studies of point sources on complex backgrounds or extended sources (sizes of more than 3 arcmin) were possible with this observing mode. This mode was the only one for mapping with PHT-P.
The maximum number of raster points was

. The maximum raster step size was 180

Therefore, the maximum sampling area was

.
In the beginning the minimum raster step size was half the aperture size and one quarter of the array size. Later in the mission (from 17-Oct-1996, revolution 3363.3) the minimum raster step size was reduced to `On-target-flag threshold' plus

in the case of PHT-P and -S and

for both C-arrays. Since the `On-target-flag threshold' was reduced to

in the end, raster step sizes as small as

were possible, which allowed highly oversampled PHT-P rasters (for example: Heinrichsen, Walker & Klaas 1998, [16]). A special raster mode was the so-called `telescope nodding' allowing to perform a slow off-on-off-on-off-... modulation similar to triangular (M= 3, 5,

) and rectangular (M= 2) chopping. By selecting a raster step size of

in between raster legs (

) and more than 1 raster leg (

) the telescope performed a nodding observation.
---





Next:
3.4 Absolute Photometry
Up:
3. Instrument Modes and
Previous:
3.2 Single-Pointing Multi-Filter and
ISO Handbook Volume IV (PHT), Version 2.0.1, SAI/1999-069/Dc