Next:
2.4 Data Collection with
Up:
2. Instrument Description
Previous:
2.2 Overview

2.3 Focal Plane Scale
Figure 2.3 shows the relative sizes of the PHT-P and -S apertures, and the PHT-C detector pixels. They were centred in the specified unvignetted field of view of

inside the

field of view of the ISO telescope. Note that the gaps between the individual PHT-C detector pixels are real. These gaps may have influenced the choice of the observing mode, in particular, if the flux of a source or its spatial flux distribution had to be measured accurately.
Figure 2.3:
Focal plane map of PHT apertures and detectors showing relative sizes of the pixels and apertures of the different sub-instruments. Note the gaps between the individual PHT-C pixels. The scale is indicated at the bottom. The 3arcmin circle is the minimum required unvignetted field of view inside the ISO's 20arcmin field of view. Z and Y denote the satellite axes as explained in the `ISO Handbook, Vol. I: ISO - Mission & Satellite Overview', [20].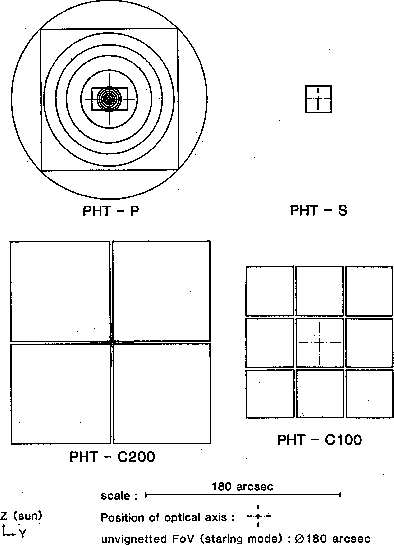 ---





Next:
2.4 Data Collection with
Up:
2. Instrument Description
Previous:
2.2 Overview
ISO Handbook Volume IV (PHT), Version 2.0.1, SAI/1999-069/Dc