Last update: 01 August 2005
---
---
Introduction
Visitors are welcome to reduce and analyse their data at the
ISO Data Centre (IDC)
.
Its staff
provides technical and scientific support on all instruments, with the latest
ISO data analysis software
as well as a wide range of expertise in instrument performance and calibration.
All visitors are asked to arrange their visit in conjunction with 'Helpdesk' and to read the notes below. Visitors should complete the ascii template "ISO Data Centre Visitor Registration Form" and mail it to helpdesk@iso.vilspa.esa.es.
The IDC is located at the VILSPA Satellite Tracking Station of the European Space Agency (ESA), near Villafranca del Castillo, Madrid.
The address is:

      The ISO Data Centre
      ESA - Villafranca Satellite Tracking Station
      Apartado - P.O. Box 50727
      28080 Madrid, SPAIN
      Telephone: +34 91 8131 100
      Fax:       +34 91 8131 308
      E-mail: helpdesk@iso.vilspa.esa.es  

---
Arriving in and Departing from Madrid
---
Finding your way to VILSPA
Maps and directions
to VILSPA from
Madrid
and
Madrid airport (Barajas)
can be found on the
VILSPA website
.
Public transport to VILSPA is very poor and we recommend that you hire a car at Madrid-Barajas airport. Please note the warnings at the Car Rental counters at Barajas.
A taxi from Madrid (Moncloa) to VILSPA should cost - about 40

.
The only possibility to reach the station by public transport is the bus line 627, NOT marked (U) or (P), Madrid (Moncloa) - Brunete. The nearest bus stop is situated at the round-about (around 20 minutes walking) on the road to the station.
---
Getting to San Lorenzo de El Escorial
San Lorenzo de El Escorial
is situated at around 50 kilometers North-West of Madrid.
For the jet lagged, luggage bound, and tired traveller -- we would recommend to take a taxi from Madrid Barajas airport to Moncloa Metro/bus station, and there to board the 661 bus (Madrid to San Lorenzo de El Escorial). The bus will drop you within 30m of the Hotels. The taxi from Barajas to Moncloa should cost - about 20

. The bus fare is about 6

, with the ticket being purchased on the bus.
You can take the train all the way to El Escorial - but unlike the bus it does not go to San Lorenzo, and leaves you at the train station 1.5 km short of the hotel.
In summary - We would advise the simple taxi + bus option. It is fairly direct and not too expensive.
---
Hotels
There are no hotels near the site. Visitors can either stay in Madrid (this can get very hot in the summer, but it is a large city), or in San Lorenzo de El Escorial (cooler, but a smaller place).
Here are some suggestions:
Hotels in Madrid
Hotel Florida Norte ****
Paseo de la Florida, 5
Tel: +34 91 542.83.00
Fax: +34 91 547.78.33

Hotel Principe Pio ***
Cuesta de San Vicente, 14
Tel: +34 91 547.08.00
Fax: +34 91 541.11.17

Hotel Regente ***
Mesonero Romanos, 9
Tel: +34 91 521.29.41
Fax: +34 91 532.30.14

Hotels in San Lorenzo de El Escorial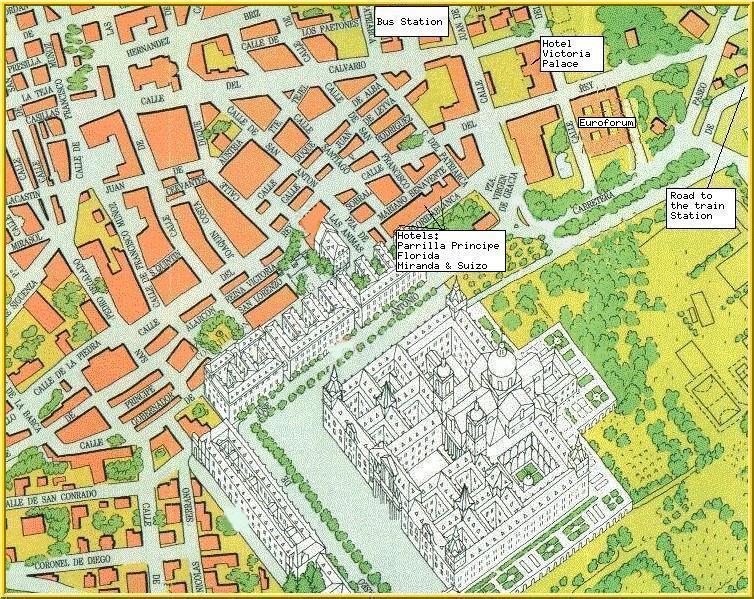 Hotels in Majadahonda - Las Rozas
Hotel Majadahonda ****
Carretera Boadilla del Monte a Majadahonda, Km. 7,300
Tel: +34 91 638 21 22
Fax: +34 91 638 21 57

Aparthotel NH Las Rozas ***
Camino viejo de Madrid, 38
Las Rozas - Madrid
Tel: +34 91 637 09 00
Fax: +34 91 637 01 50

---
Checklist
(for workshop attendees and visitors performing data reduction)
Before you come:

You should make your own arrangements for flights, hotels and hire cars. If you have trouble in finding suitable accomodation please contact helpdesk.
If you have not done so, download and read the relevant ISO Documentation.
Should you wish to work with data processed with OLP version 6 or earlier, please bring your data CD's.
The ISO data analysis software is based on the IDL package. We strongly advise you to get knowledgeable about this software, at least with the basics. More information about this package can be found at:
When you get here:
Please stop at the gate for your badge. You will then be contacted by a member of the IDC who will help you getting started.
Before you leave:
At least one day before leaving the IDC you will be asked how do you want to take your processed data back to your home institute. You can select one of the following options:

- transfer via ftp the processed data to your home institute.
- produce a backup copy of your account in a DAT tape.
---
Acknowledgements
IDC users are asked to acknowledge the support of the centre in their publications with "Data presented in this paper were analysed at ESA's ISO Data Centre (IDC) at Vilspa, Spain.".
We look forward to seeing you at the ISO Data Centre,
The ISO Data Centre Team
---